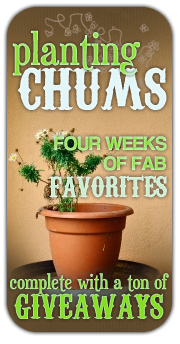 Alright, as you all know (since it's basically all over blogger) Hannah @
Aspire
is doing this AWESOME Planting Chums ordeal at her blog.
Here's her post for this week
. This is our last week. Sad, I know, but this farewell post is going to be fun! I get to tell you all four, yes, FOUR fun facts about.... moi! *points to self* Let's get started.
1. One [quirky] thing about me, is I like to (and usually do) pick things up with my feet. Yeah, weird, right? I don't know why, I just do. I fix the wrinkled rugs with my feet, pick up things I've dropped... whatever the case may be, you name it, I perform the task with my feet... okay, not anything. :P
2. Besides the ones I've met on blogger, I don't have any friends who are my age. All of them are either born in 1993, or 1995. Ugh! Is no one born in the Summer of 1994 (preferably August)?! I mean, good grief people! It's a totally awesome, totally SWEET time to be born! I should know.... I was born then. lol :P
3. I CANNOT STAND IT when people wear sunglasses when talking to me. Ugh! That just grates on me. I have to look in their eyes to actually feel like I'm having a conversation with them. I know, it might sound weird, (especially for a guy) but it's true! I can't stand it. I feel as if they're not talking to me. This has happened several times.... but, ya know, now that I think about it, it's mostly guys that do it. Girls don't mind having you look them in the eyes (at least the ones I know), but guys are weird like that. *shrugs shoulders* They hide behind their sunglasses, hoping it makes them look cool or something.
4. I HATE JELLO. I hate it for a weird reason, too, and you're all gonna laugh. Okay, let's start at the beginning, shall we?.... When I was little, (especially when I was in kindergarten) I had a VERY weak stomach. Seriously, I would puke all the time! Yuck! Anyways, there was a Christmas thing going on at my school in 1st grade, and someone had made a bunch of Santa shaped, red jello. (Goodness, I'm such a dork. My stomach is already not feeling good just thinking about it. Anyways...) I ate a whole bunch of 'em! Well, when I got home, my stomach wasn't feeling good. I was sitting at the dining room table, probably eating. lol =D I stood up and started walking to the bathroom. I didn't make it. I puked on our beige colored rug in the living room. Stained it red. At first, I was panicking a little bit, thinking it was blood, but I remembered the red jello and knew immediately, I would never, EVER be able to eat jello again. So, there ya have it. I hate Jello. Though, on occasion I would eat my free Jello I got from El Chico's (which is a Mexican restaurant we went to basically every Friday night at my old house in the city). But, even then my stomach would scream, "NOOOO!" lol :P Now, however, Jello is OUT OF THE QUESTION. Uh oh. Oh boy. I seriously am not feeling good right now. I probably shouldn't have mentioned this. *hold stomach*
Well, those are four fun facts about me. =) Hannah, this was so much fun, even if I didn't participate in the first one, and kept forgetting to do the other two. lol :P Thanks for doing it! Btw, the giveaways for this week look AWESOME!! *crosses fingers* lol ;)
Love,
~Eldarwen Failariel~